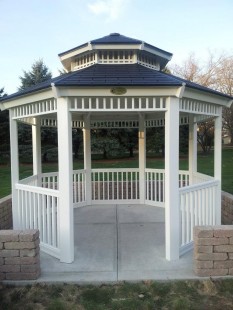 Exterior Home Maintenance
For Our Lawn & Landscape Customers
We provide exterior home maintenance for our lawn and landscape customer base to help with most repairs on the exterior of your home. Along with building fences, power washing, gutter cleaning, deck staining and much more from a company that you can trust. Money back Guarantee. We will work with you until you are satisfied or refund the amount of any labor charged. Give us 1% of your trust and we'll earn the other 99%.
Customer Testimonial
"I am very pleased with the quality of service your company provides. I appreciate your responsiveness and the way you conduct business. You are professional and courteous and place importance on your customers. Quality Yard is very timely with maintaining my lawn weed/feed requirements, done a professional job on reinforcing a retaining wall, and provided many other general home maintenance projects. I have recommended your company to others because of my satisfaction with your service. I look forward to continuing doing business with Quality Yard and Home Maintenance."
Carol, Pataskala, OH
"Jeremy and his crew have done exterior and interior projects at my home. They replaced a basement ceiling and created a new ceiling on our screened porch. Outside they have thinned bushes, trimmed trees, cleaned gutters, and power-washed gutters. This spring they will replace a bathroom vanity and backsplash, plant shrubs, and install a stone edging along flower beds. Jeremy responds to requests in a timely manner and has good solutions for our home and yard maintenance concerns. I am pleased to recommend them."
Susan Stumpp, Reynoldsburg, OH
"I'm very happy with the work that Jeremy and his team performed. They installed an addition to the loft in my outdoor shed, making room for much more storage. The project went exactly as planned and everything was done exactly as I wanted. I chose Quality Yard and Home Maintenance due to the other reviews and recommendations that I received. The trust factor and quality of work was my most concern and Jeremy and his team exceeded all of my expectations. This is definitely the company that I will use from here on out with any and all of my home needs. This is hands down the number 1 company in regards to trust, quality, and results performed exactly as one wants."
Clint A. Alexandria, OH
"Love having your service — you are dependable and always willing to take care of my home maintenance needs. It's great to have one place to call for anything I need, and your employees are always respectful and friendly. Thanks so much for all you do!"
Mary S Pickerington, OH
Fences & Decks
Our current and previous customers like being able to turn to a proven, trustworthy, and thorough company that does "Quality Work" to take on their large projects. We will never mislead anyone, nor will we abandon a project if a problem arises. Having one dependable company saves a lot of time looking for a company to use and prevents chances of being misled.
Customer Testimonial
"Jeremy, just wanted to let you know how satisfied mom and I were with the fence that you put up in May. The workers were very professional and courteous. They were very detailed oriented in making sure that fence was put up correctly. They did a wonderful job in clean up as well. Everything looks great. Thanks again."
Annette and Mary