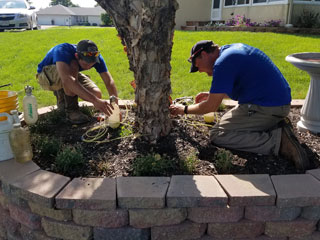 Emerald Ash Borer Control

As an ISA Certified Arborist, I care about your trees and only want to use the best products. This short video explains the procedure we use to protect your trees from the various insects and diseases they can contract. For a full list of the insects and diseases we can treat feel free to give us a call or send us a message with the request a quote form.
Customer Testimonial
"Jeremy, your EAB injection really works. The big ash tree you treated for me 2 years ago (the one coming out of the middle of my deck) leafed out beautifully last summer all the way to the tips, while many other untreated large ash trees throughout my neighborhood died and had to be cut down. Your welcome to use my tree and testimony to endorse your product and service."  
Gary Buzzelli (Pataskala, Ohio)
Your Trees Are Your Investment
We use the most effective product "Tree-age" (Emmamectin Benzoate) with a 2 year control.  Kills 99.9% of all Emerald Ash Borer Larvae.  Arborjet is the delivery system we use, and recommended for best delivery of the product.